The Boring Stuff
Credit Card Security
We will never, ever tell anybody your credit card number or security code. How can we make such a promise? Because our website never "sees" your credit card number and security code. After you select the Colour de Verre products you want to buy, we pass your electronic "shopping cart" over to a secure, well-known, well-respected shopping cart processor. (Look for the lock symbol in the upper-right or lower-left corner of your screen.) Once the order is complete, the shipping information is sent back to Colour de Verre so we can ship out the order.
If you have any concerns about security, call us at (503) 232-3629 8AM-5PM PST. A real, live person will take your order and tell you where to send a check or money order. Please, never send us cash or include a credit card number in an email.
Email Addresses
We will not share your email address with anybody. We promise this whether we collect this information on our website or on our sign-up sheets. At the end of every one of our emails, we will include information on how to remove your name from our mailing list. Everybody hates "spam" – the email, not the canned meat product. The last thing we want to do is send emails to somebody who doesn't want to hear from us.
International Orders
Our online store calculates shipping automatically for United States and Canada. International customers have two options:
Click here for a list of our international distributors, or
Send us an email with your address, phone number, and a list of the items that you want. We will contact you with shipping options and estimates.
Wholesale Policy
We encourage retailers and large-volume consumers to purchase Colour de Verre products through their favorite distributor. If you don't have a relationship with a distributor or your distributor isn't fully stocked, contact us and ask for a wholesale price list. Our warehouse almost always ships product within three business days.
Shipping Zones
Our shipping is calculated by zone. Please find your state on the map below to determine your zone.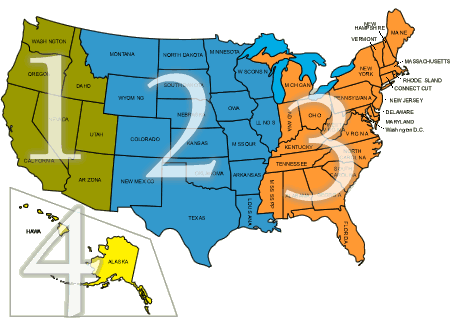 Shipping Rates
Shipping Zone

1

2

3

4

Canada

$0 - 75

$14

$16

$18

$27

$30

$75.01 - 150

$18

$20

$22

$32

$35

$150.01 and over

Free

Free

Free

$32

$35
Return Policy
If your mold arrives broken, call us immediately and report it. Save all original packing materials as we might ask about it.